Today I found myself pondering what I wanted to blog about. What was on my mind? Nothing specific was pushing to the forefront and I needed to work out anyway, so I put on my new leggings. That's when I realized, mid-shimmy into my new leggings: workout clothes. Workout clothes are on my mind.
That sounds shallow, I know. But let me tell you, it's no easy thing to find workout clothes as a woman. Well, finding any well-fitting clothes as a woman basically involves magic and math and the sacrifice of a dozen goats.
I'm a relatively small person (through careful eating and regular exercise; believe me, it doesn't just happen), but finding leggings takes quite a bit of work because I'm curvy. I have thick, dancer's thighs and a small waist (not even kidding: my thighs are only a few inches smaller than my waist. I'll admit that seems like a strange thing to know, but I find checking my measurements even more useful than stepping on the scale). Up until a few years ago, I just worked out in a basic tee shirt and stretchy athletic pants. Newsflash: leggings make workouts so much better. They do. They support in the best ways and stretch as much as you do. They help me work out harder.
Well. The right ones do, anyway. I've invested some time to find the right ones for me. And since I like to save women from doing all the same work I did, I thought I'd share my favorite workout clothes. Since my workouts involve dancing or walking, I tend to need pieces that are both flexible and supportive. And because I don't exercise outside, they all need to be breathable. No extra warmth required.
Let's start with leggings. The very first kind of leggings I found that worked for me were Champion leggings from Target. I wish I could tell you what styles they are, but Champion recently revamped their line and now I have no idea what's what. But I have three different pairs and they're all great. So if you like to try things on first, consider adding a stop by the activewear department to your Target run.
My most recent addition that I was trying out today is a pair of Marika leggings. I kept seeing them on Zulily and since I have a super comfortable yoga bra from Marika's Balance collection (perfect for traveling/loungewear), I decided to take the risk. When I find things I like, I'm remarkably brand-loyal.
Here's what I settled on:
So how'd they work out? I know you're dying to know. Pretty well, actually. The fabric is right in the middle between thick and thin, and they're relatively soft. The only negative I found is that the fabric at the top, in the "tummy control" area (side note: can we not call it "stomach"? What's next, "boo boo treatment"? Honestly, people.) is sort of mesh on the inside so it's not the softest. It didn't bother me too much but I imagine it could be problematic if you were running or doing some other repetitive movement that could make it rub against your waist. Also probably easily fixed by tucking in a shirt but who does that?
Here's the most important thing about these leggings: I didn't have trouble fitting my thighs in them. They stretch well and they're lightly supportive. No contortion necessary to get them on and they didn't feel like a Chinese finger trap on my legs (I'm looking at you, Fabletics). From what I can tell, they run true to size. Since this is the first time I've worn them, I can't speak to their durability but so far they're a solid contender to be my favorite pair.
I need to add one more thing to this leggings discussion: laundry detergent. I think half the battle with leggings is treating them right. So I wash them with my delicates in a special lingerie detergent called Forever New. I can't tell you how much of the softness of my leggings is due to the fabric versus the detergent, but either way, I absolutely recommend washing your leggings in a special detergent. I like this one because it's not super perfume-y (slightly floral, although they do have a fragrance free variety) and it really does make everything soft. And it probably makes delicate clothes last longer. (I haven't done a controlled study on that.)
Moving on to shirts. You wouldn't think shirts would be a big deal. Turns out, they are. Remember how I said I have a small waist? Well I have big arms, so I often end up with shirts that are baggy all the way around or too tight in the arms/shoulders. And here's something I discovered: some shirts are more breathable than others. Who knew.
I have a random assortment of workout tops but there are two that are easily my first choices.
This shirt is fantastic. It's not particularly fitted but it's not massive and there's room for my big arms. As in, I can move my arms and the whole shirt doesn't move with them. More than that, though, the fabric is both breathable and soft. It's not the weird nylon texture of most activewear tops. It feels kind of satiny but it's still breathable, somehow. The only thing I'd change is the seam in the back. It's not a major deal but it could be bothersome depending on how the shirt fits.
The other shirt I love is no longer in stock but it's Tek Gear brand and very similar to this style. The "Dry Tek" fabric is also soft but breathable. It's actually quite similar to the Champion tees but maybe slightly less silky.
Okay, we've gotta have a word about sports bras. I dance, people. I also spend some time on the treadmill. That requires two different levels of support and I wear a rare size, so I've tried a lot of different sports bras. I've got two favorites.
For dancing, running bras work best. So if you run, you may want to check out the Shock Absorber Ultimate Gym bra. It's not the most comfortable thing ever, but I don't think it can be. However, if you want support, that's got it. The band is definitely snug so if you're between sizes, get the larger size (but then make sure you size down in the cup. Oh the joys of bra math.). Their Ultimate Run bra is also great, but over time, the racerback clasp at the top starts to unclasp and then reclasp every time you move your arms a certain way. It doesn't affect the functionality, but the clicking noise bothered me enough that I retired that bra.
The other kind I like, which I use for walking on the treadmill, is the Endurance bra by Moving Comfort. It looks like it might be discontinued but I've had several of their bras and they're all good quality. Just stay away from the Rebounder bra unless you're happy to nearly dislocate one or both shoulders to get into it. Oh, and if you know what size you wear, try checking EBay. Plenty of new stuff with tags just sitting there, waiting to save you money. (Also a good place to find discontinued favorites.)
No workout attire discussion would be complete without a word about shoes. I don't wear shoes when I dance but they're super important when I'm on the treadmill. I used to be content with my Nikes but then one day, one lovely wonderful day, I tried on a pair of Ryka shoes.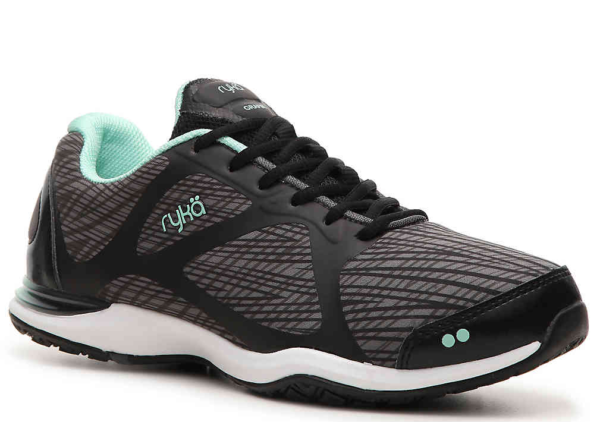 What's so different about those shoes, you ask? Well, instead of designing shoes for men and then just making them smaller and a little narrower for women, Ryka shoes are made specifically for women. I don't know how they do it. These shoes incredibly light but still supportive. It's like a strong hug for your feet. I had no idea what I was missing. I will never go back. (Note: these shoes also often end up on Zulily and you can find them at places like DSW, so hold out for a good deal.)
So there you go. Now you know all my favorite activewear pieces that help me stay strong and fit. Questions? Comments? Recommendations to add? Leave them below!