Every now and then, we writers like to take a minute to tell you what it's like to do what we do. 'Cause it ain't no small thing, lemme tell ya. I was tagged by the fabulous Laurie Tomlinson to participate in a series of questions about life as a writer.
1. What are you currently working on?
I'm anxiously awaiting feedback from my fabulous critique partners on a completed (and revised and revised again) mystery. In the meantime, the next one, book two in a three-book series, is begging to be written. It will continue the journey of the main character introduced in book one.
2. How does your work differ from others of its genre?
Well, I didn't intend for my books to be humorous, but the funny just came out as I was writing. Who knew I had that in me? So although there's murder, the style of my books is funny and quirky. I write what I want to read, essentially. I love mysteries and I adore a solid sense of humor. Think of it like Gilmore Girls meets Agatha Christie. Snark, wit, and murder.
3. Why do you write what you do?
I grew up reading mysteries. I couldn't get enough of the intrigue and the suspense and the whodunit. It took me a while to be bold enough to attempt a true murder mystery, but there was never any doubt mystery was my preferred genre. I love the way it pulls the reader into the action, the way clues have to be woven throughout with subtlety and nuance. It's a challenge to write, for sure, but I think that's part of why I love it.
4. How does your writing process work?
For me, it all starts with creating a character. (In the case of my current series, that's a quirky, clumsy but smart executive assistant who finds herself miles beyond her normal world.) Once I've gotten to know my character, I brainstorm concepts, plot points, and the overall story arc but I don't know all the details until I start writing it, until I'm in the middle of a scene and oh hello, here's a great idea.
I think of my writing process like a road trip. I know my final destination. I've got a list of places I want to stop along the way. But if I see a sign for "The World's Best Coffee," you better believe I'm taking that turn, list or no list! When I'm writing, I have an idea of where I'm going but I give myself freedom to explore other paths as they arise.
I'm also a majorly visual person, so as I'm writing, I keep track of what happens in each chapter by scribbling the main points on notecards that I pin on a cork board in my office. That way, I don't lose track of the big picture and I can easily find a specific scene. I also pin the names of characters as I introduce them so I know exactly when they entered my story (and so I don't forget about them). And I keep a "suspects" and "victims" list. Because, ya know, I gotta know who I've killed and who I should frame for it.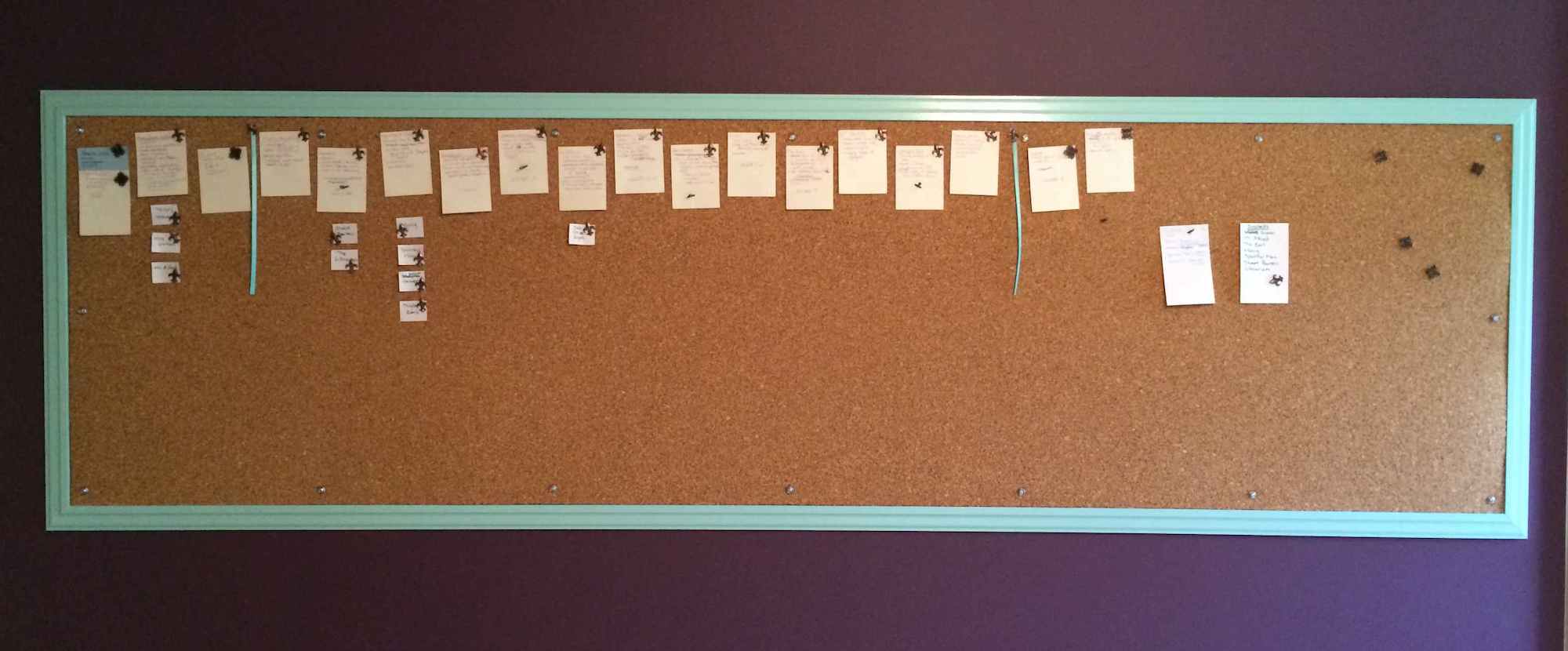 So there ya have it. A peek at how the writing happens for me. And to continue this educational journey, I'd love to send you over to read more from my friend, Gabrielle Meyer. She'll be talking about her writing process next Monday. Here's a little more about her:
Gabrielle Meyer lives in Minnesota on the banks of the Mississippi River with her husband and four young children. As an employee of the Minnesota Historical Society for ten years, and the Morrison County Historical Society for two years, she fell in love with the rich history of her state and enjoys writing fictional stories inspired by actual people and events. She can be found on her blog, where she writes about her passion for history, Minnesota, and her faith.