I have returned! My purple chucks are now firmly planted on Virginia soil. What a weekend it was! I met so many fantastic people at the ACFW conference, and I could try to tell you about all of it, but it would probably take forever. So I'll just focus on a few standout moments:
1. My Book Therapy's take on the Wizard of Oz.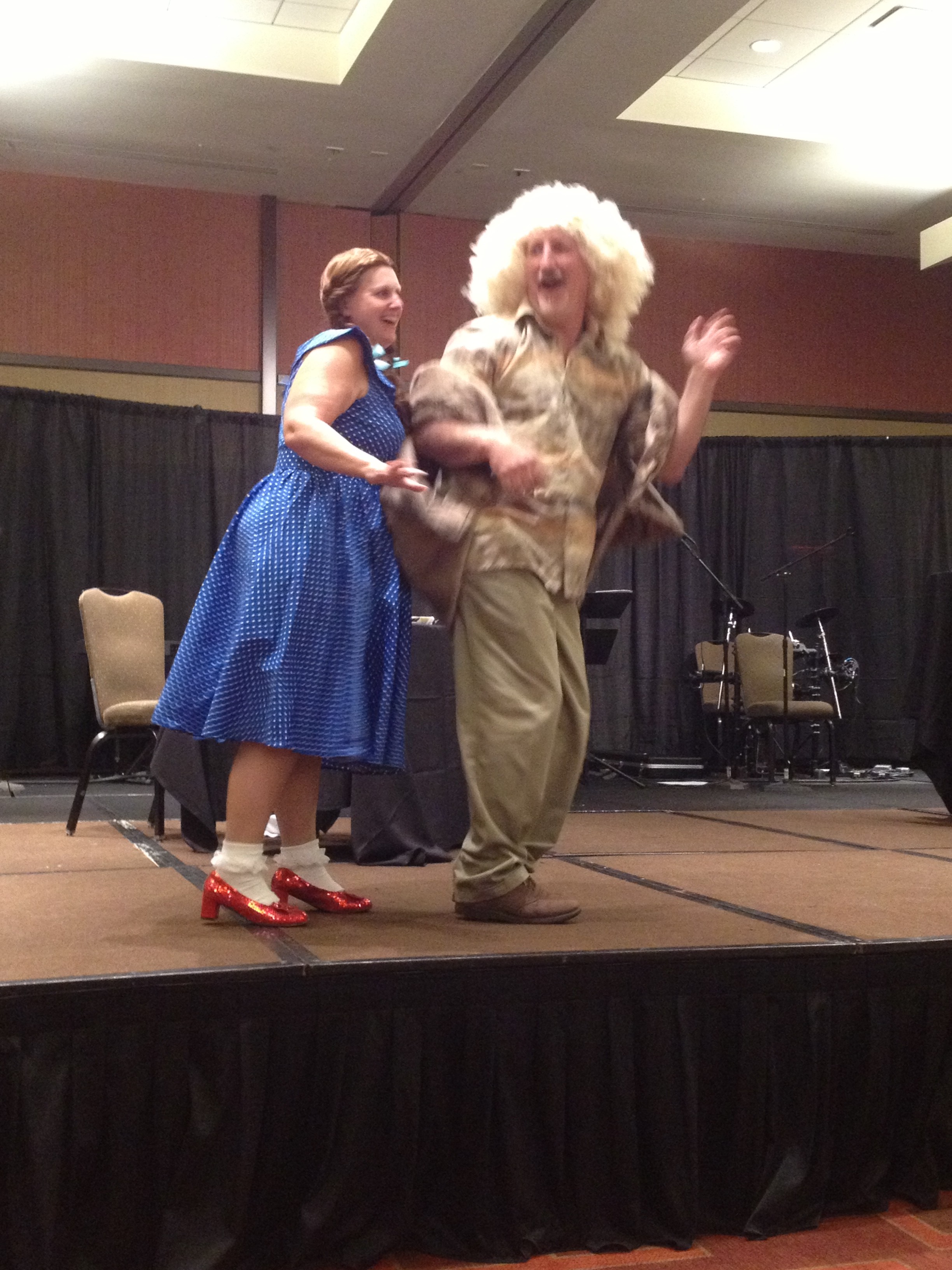 (That's Susan May Warren and Jim Rubart as Dorothy and the Cowardly Lion, respectively.)
There was singing. There was dancing. There were costumes! And when they mentioned the "Agent of Oz", I didn't think much of it until the lion said "But he's so scary.. and intimidating!" and I thought Dude! It's gonna be Chip!
And it was. So one point for me! (At my first conference, when people found out I had an appointment with Chip MacGregor, they said one of two things: 1. "Oh wow, you're really brave!" 2. "Ohh. Now… Don't be intimidated…")
Major props to all the people in MBT's take on The Wizard of Oz. Great talent all around.
2. Laurie winning the Genesis in the Contemporary category.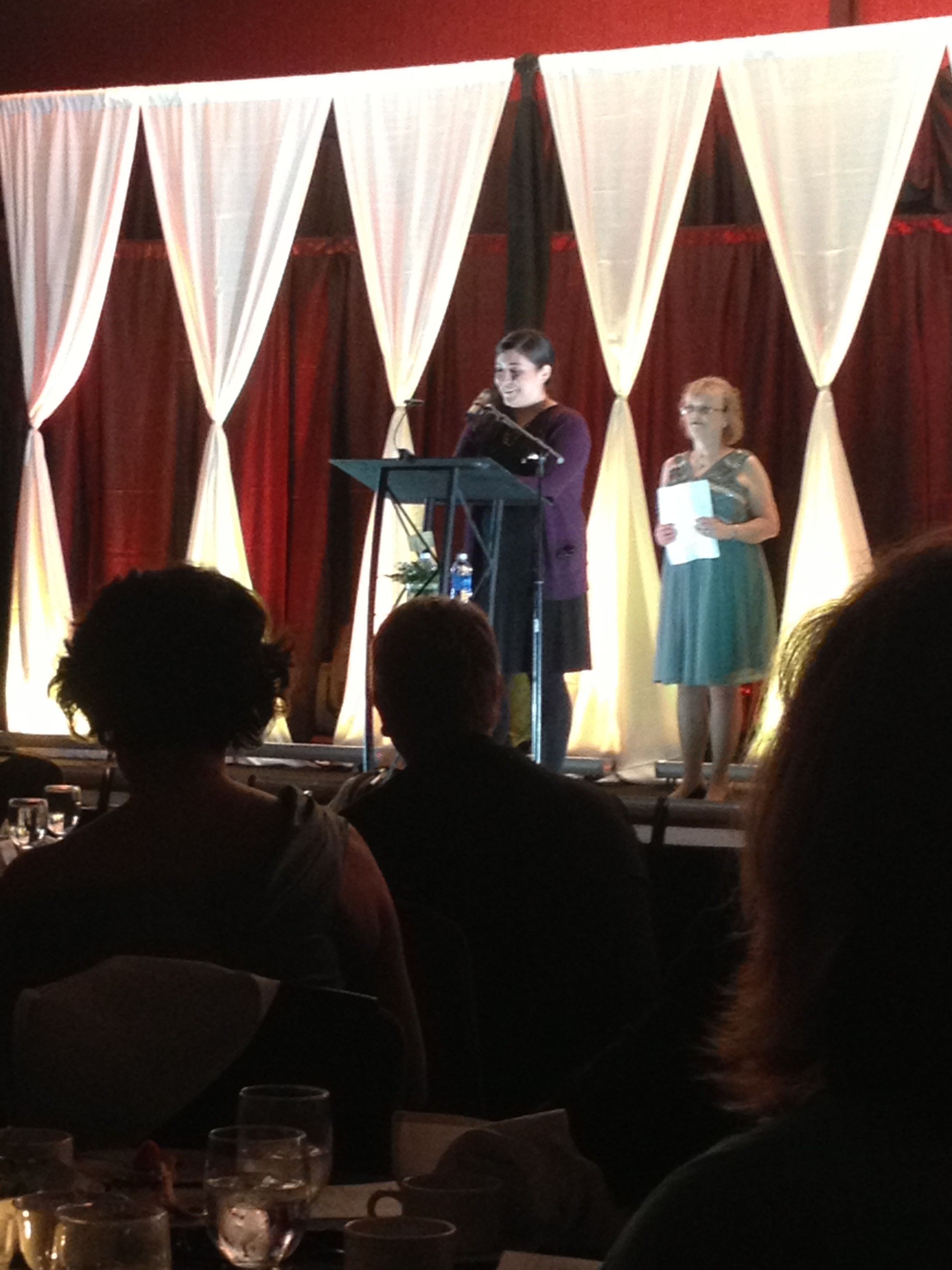 I cannot tell you how sweet and fantastic Laurie is. I'm thrilled for her and all the fabulous things that are about to come her way. I'm so glad we got the chance to hang out and laugh and geek out a little over the people we got to meet. Speaking of which…
3. Pinning a boutonniere on Frank Peretti.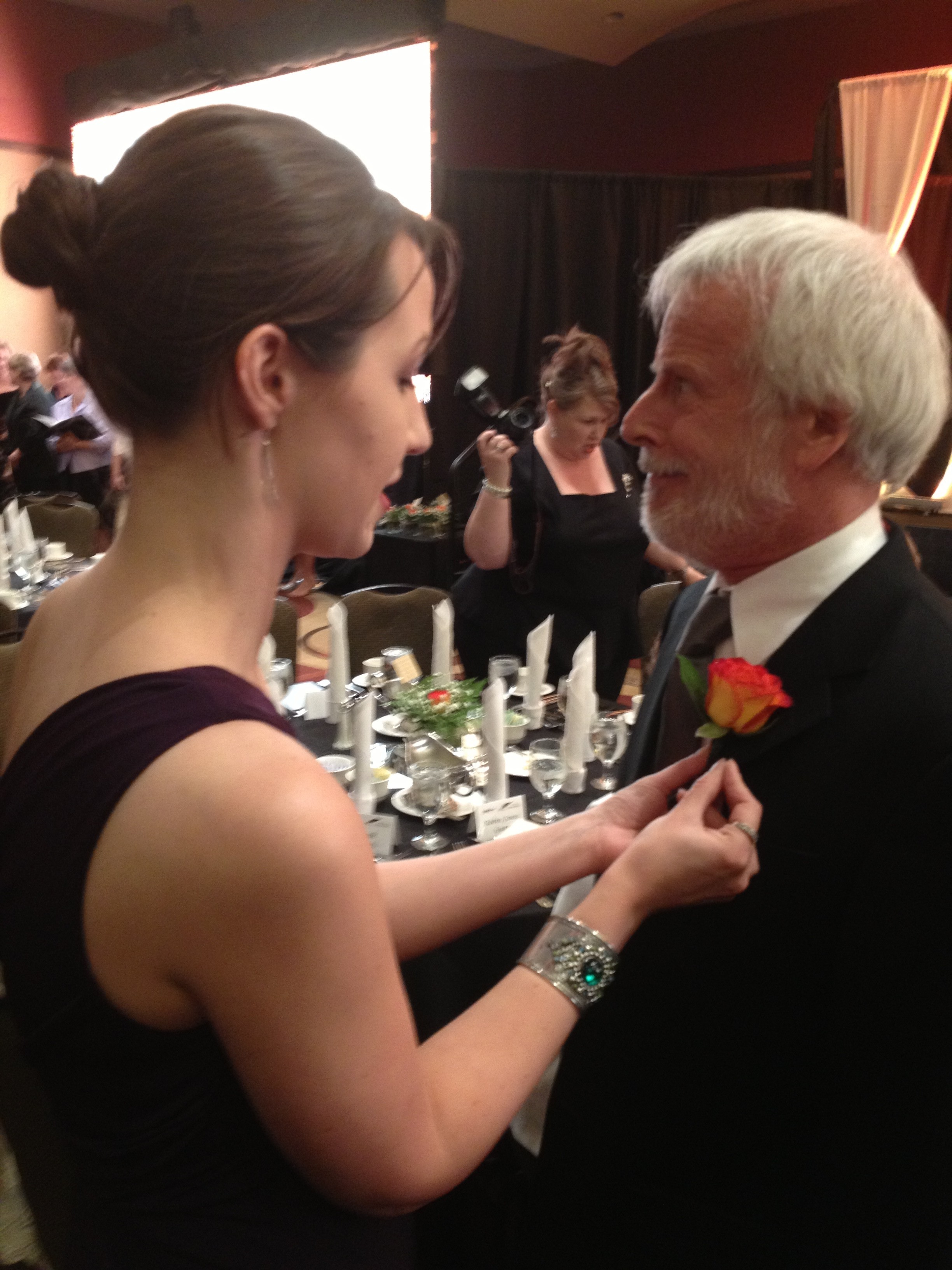 See? (Yeah, I'd be making that face too, Frank, if some random person was coming at me with a sharp pin. Especially when she says she writes murder mysteries.)
How did I get such a fabulous opportunity? Well, see… I ended up with 4 appointments (madness!). One of those was a mentor appointment with Allen Arnold, which was fantastic and super encouraging. He mentioned that he was going to be sitting with Frank Peretti at the gala and I was like "I so want to meet him but I don't want to be that girl who jumps in front of him as he's walking by."
(Seriously. Laurie and I had to withhold the "oh my gosh, it's Frank Peretti!!" enthusiasm when he walked by as we were waiting for appointments.) So Allen Arnold (for some reason I feel compelled to refer to him by both his first and last names) kindly offered to introduce me to him.
Frank was the guest of honor for the gala (since he was receiving the Lifetime Achievement Award) so Allen Arnold had been given a boutonniere to give him. I made a joke about him pinning it on Frank which he wasn't particularly eager to do. When Frank came by, I told him how much I had enjoyed growing up with his kids' books, and then Allen Arnold offered to let me pin the boutonniere on Frank.
Ok, seriously… I don't have a lot of experience with these things. So I was a tad worried I wasn't going to be able to get it stay or I'd end up being known as the girl who pin-stabbed Frank Peretti. Minor details.
But I managed to get it on with no stabbing! When I saw him later, the boutonniere was even still in place. Score! Super major thanks to Allen Arnold for letting me have the opportunity.
(In other news, do you see my hair? Did that myself, without having to remove my head in order to reach the back. And it stayed up all night, thanks to 20 bobby pins and insane amounts of hairspray.)
Whew. So many good times. It felt weird to be home after all of that. I don't think I was done yet. It was one incredible weekend, but I guess the purple chucks have earned themselves a break.